Publishers Weekly (starred review)
Sumptuous language and a disarming gentleness propel this profoundly simple, funny, and sincere memoir. Growing up as the child of idealistic homesteaders in Kentucky imbued Schimmoeller with a deep appreciation for nature and off-the-grid living, while leaving him feeling disconnected from the modern world. After graduating from college and finishing an unsatisfying internship at the Nation, Schimmoeller embarked on a solo journey across America on a unicycle. The author's story of finding a way to live in the world on his own terms is told simultaneously with that of his attempts to save old-growth forest adjacent to his homestead in Kentucky. "It doesn't make a difference one way or the other if I take a break," he tells a stranger who questions the intensely slow pace of his mode of transport—an explanation that speaks to the author's quest to find respite in a troubled world.
Reviewed on: 02/17/2014 Release date: 10/01/2013
Schimmoeller, Mark. Slowspoke: A Unicyclist's Guide to America. Chelsea Green. Aug. 2014. 328p. ISBN 9781603585903. pap. $17.95. MEMOIR
http://reviews.libraryjournal.com/2014/08/books/hollywood-history-a-funky-mayor-and-unicycling-across-america-books-for-dudes/
A man stands naked in the cold air of a winter's morning. Because he has to? No, because he wants to. He savors the anticipation of a warm-water outdoor bath near his home. He's there "…to feel the heat of the water and more to the point, to feel the heat of the water after being cold." This anticipatory streak in Schimmoeller is his defining characteristic, the one that helped him to unicycle his way across the USA in 1992. Though there is plenty about the physical journey, the book is less about that than it is him expostulating on life generally, especially the one he has built with his wife living off the grid in rural Kentucky. He darts back and forth through time, managing to charm the hell out of readers the whole way. With liberal amounts of verbiage and a winning disregard for moving his story forward, Schimmoeller's story meanders exactly as a pleasant, cool stream would: seeking its own level, going at its own pace, beholden only to itself—and exuberantly charming in that freedom. After a co-Valedictorian high school career (but no dates with girls), the author majored in English and spent some unhappy time working for a NYC magazine. He gradually came to the idea that, instead, he would let life rip. He'd "…put the backpack on, strap the canteen over me, and launch myself on the unicycle." VERDICT Homesteaders, independent thinkers, off-the-gridders, slowpokes of the world, and those who love dudes like us—unite! We have found our superhero/poet laureate!
Slowspoke
A Unicyclist's Guide to America
Mark Schimmoeller
(Chelsea Green)

You remember those funny old bicycles from 1890 with the huge wheel up front, the tiny one behind. You wondered how anyone ever got up on one, much less rode along without falling over, what they called in those days a "heading."

Evidently it's less difficult than it looks, but more important for our story is that those "penny-farthings" (that's what they were called in England: large penny up front, tiny farthing behind) were essentially unicycles because for anyone with a sense of balance — and you did need that — one could stay aloft without a seat, just using your legs, standing on as it were two ever-moving pedals, going forwards or backwards, trying not to fall in a tumble.It wasn't as difficult as it sounds on a unicycle, unless you, like Schimmoeller, chose to ride it across mainland United States. Which he did, in 1992, in a period of months, and which is, ostensibly, the subject of this book: pedalling single-mindedly (single-wheeledly too) from Upton, North Carolina to Lukachukai, New Mexico — taking a short break to go back to be with his family, in Kentucky, in the summer of that year. 

§   §   §

The author says that riding a unicycle is moving like a pendulum. Press on the left pedal, you move left, right right. You are up there on your seat, nothing in front of you or behind you. Your hands are free. At times he takes notes while he is going down to a level road, but it hinders the balance because you have to (as it were) pedal the air with your arms to keep balance. Still, he could have written the whole book while he was passing through, say, Oklahoma.We find ourselves rather awed by the whole presumption here: so many miles seated on this one tricky wheel, with rain, snow, wind, passing cars, trucks, tractors, pedestrians and, further west, cows and buffalo. How did he do it? Didn't it hurt, uh, down there? Chafe him? Rub him the wrong way? Schimmoeller is a stolid sort, doesn't — or won't — say.Besides, he wasn't up there in the driver's seat all the time. There are certain roads, certain winds, certain physical presences (speeding cars and trucks; no friendly paved shoulders) that make it lots less life-threatening to walk your unicycle. It in front, you behind.

He learns and we learn (this is our first trip together) necessary precautions. Stay out of cities if possible. Never try to use a busy highway to get in or out of town. Look for the roads on the map that are the little dinky lines between the big ones. Avoid the four-lane or six-lane highways. Try times when there will be no traffic, or if any traffic, wide shoulders are preferable. Calm day. No wind best. No tornadoes, please. Nor drunks. Best to avoid people standing along side the road who might be laughing at him.

For he is a reticent type. Tells us at one point that he was "someone who wished not to be seen." He's talking about finding a meadow or a field or a pasture where he can sleep for the night, but we also get the feeling this guy is not one to be looking for companionship. He doesn't waste words, either, at least not on the page; we doubt he would in person.

Still, there you are with him half-way through Ohio on a bloody unicycle, and we are thinking "this guy tells us he is the retiring type. Howcum he isn't walking, running, riding a Schwinn, flying cross-country on a hang-glider?"

§   §   §

One of his favorite cities — ours too — is Scottsville, Kentucky. That's where the Mennonites live and work and play, where they let him stay a few days, helping to pitch manure, mow the lawn, take a buggy into town: get off a unicycle and, to go for ice cream, climbing into a horse-drawn buggy to do so; does this Schimmoeller have transportation issues?

What we'll always remember from Slowspoke is the people in places who were nice to him. We've come a long way with him, have come to enjoy his company, don't care for it when people laugh at his long hair, stare at him, jeer, drive too close to him, throw beer bottles at him, or worst of all, try to convert him to Jesus.

We want them to let him alone because he is so easygoing (except on himself) and, for sure, is nuts about trees and birds and creatures of the woods. Especially trees. If you ever go visit him and his wife there near Frankfurt, Kentucky, these are the trees you'll meet (he'll introduce you): redbud, plum, white oak, maple, ash, shagbark hickory, sugar maple, cedar — amidst thickets of blackberry, black haw, ironwood, black raspberry, mulberries. From his comments, we think — no, we know, that he is a treehead.

You'll soon figure that one reason he decided to go so far on so little is that he is a minimalist, not unlike those Mennonites. A unicycle is a minimalist dream: one seat, one tire, a fork, two pedals, several dozen spokes. If you are going across America, I guess it's the simplest way, outside of a pogo stick. Maybe next time around we can talk him into that.In Filley, Missouri,

I asked directions at an antique store. "I can see what your problem is right away. You just have one wheel," the owner, Len Dennis, told me. He stood outside his shop.I've managed to come all the way from North Carolina," I said.

"You're from North Carolina?"

"Actually, I'm from Kentucky."

"I'll bet you're lost."

I told him I needed to get to Road CC on gravel roads.

"In other words, you're lost. We haven't had a unicycle traveler yet who has stopped here and hasn't been lost."

That's one of the funny ones (there are quite a few jokers to be found on these pages).

Then there are the ones that manage to irritate Mark. And the rest of us, too. Like the guy from the radio station in Clarksville, Kentucky who flags him down for an interview.

Now I just want to know one thing, and anybody who has seen you, I imagine, has the same question. How do you, carrying that big pack and balancing on just one wheel, keep from falling?He annoyed me. In another context I would have appreciated the question, for I'd thought a lot about falling. I would have explained how a unicyclist didn't attempt to completely avoid falling, a process set in motion immediately after mounting. Rather, the goal was to keep from falling too far. … The act of act of falling partway plus corrections equals movement.

§   §   §

Who 

is 

this Schimmoeller? He graduated from college and got an editing job at 

The Nation 

and then he drifted back to his family's place in Kentucky and sooner or later met Jennifer and they built a place in the woods off the grid: water from well, solar stove, cabin built from a near-by timberland. One of the most charming passages is Mark leading a would-be assessor (they're trying to get help from the Nature Preserves Commission) up to and through his house:

The ground directly ahead slopes almost immediately downhill past plum and redbud and gets swallowed again by woods. To the right, a mowed path leading to the garden goes past highbush blueberries in raised beds and next year's firewood, cut, split, stacked, and covered with tin. To the left, on the east, is our cedar board-and-batten house. Steppingstones lead him to the back door, which is made out of cedar as well — in the same board-and-batten as the house — with a clear window. The lever handle is inset in a bit, due to the fact that this door we built last winter turned out to be thicker than standard.Once inside, everything described minutely, and the smell of cedar everywhere cinches it. Someday, I swear I'm going to go to Kentucky and see this house on my own. If I can ever find it — even though Slowspoke convinces me that Mark Schimmoellar is so retiring that when I approach the house he'll probably be hiding in the root-cellar. I'd probably have to put out an APB with the Kentucky State police just to find him.

There are books like this that are so nice that, like Holden Caufield, you want to call up the author and tell him (or her) what a great job he (or she) has done. The same way I felt readingCraig Childs, José Sarney, Brendan O'Carroll, César Aria. Or the travel-book writers likeStanley Stewart in China, Santo Cilauro in Molvanîa or Hugo Williams around the world.

This is not only the tale of a man on a unicycle, one who has turned his back on freeways and power plants and supermarkets and television. More, it's a man who has honed a fine edge to what he has learned: what works, what doesn't work, what you need, what you don't need in life; details that end up making Slowspoke a classic.

We have here a man who can write so endearingly about carrots down in his root-cellar that you want some right now: "In this dish of January carrots there's a portion of that sweetness that the first fall frost gives the carrots; yet the sweetness is complex enough to suggest the possibility of bitterness, and an image of the feathery green tops comes to mind, how touching them can coat your hand with their sharp smell. Oregano tweaks the carrots' complex sweetness to release in the mouth the feel of a humid summer day."

But in my mind the taste also includes the transition from summer to winter, the change in temperature — not the quick change from day to night, or from month to month, but the change that happens in the earth, in the cellar where they are stored, where it appears that nothing is happening. Yet in the winder the cellar feels like fall; in the summer, like spring.It's a little like going from North Carolina to New Mexico. On a unicycle.

Why?

Because it's just something that you just have to do, all the while knowing that it cannot be pushed, rushed or — even — avoided.

— L. W. Milam
from the Atlanta Journal Constitution:

'Slowspoke' chronicles a unicyclist's long-distance ramble
By Jeff Calder – For Cox Newspapers
Contemporary Americans are happy to beetle across the suburbs, admiring a ridge or two of passing brush, just so long as it's narrated by David Attenborough. But pedaling a single wheel 2,000 miles into the middle of nowhere? Here we must submit to the determination of Mark Schimmoeller, who recounts just such an adventure in his worthy memoir "Slowspoke: A Unicyclist's Guide to America."
In keeping with Schimmoeller's transcendentalist outlook, it was best for him to "travel in the manner of a leaf descending to the ground." Starting at his parent's Kentucky homestead, the author's haphazard route took him east into North Carolina, then volte-face, through the Cumberland Gap and, eventually, over the Continental Divide into the giant states of the Southwest. Avoiding urban areas, he rolled past communities with names like Static, Mudlick and Flippin. Frequently he was obliged to walk — for a unicyclist, wind can sometimes be the enemy.
+ 
"Slowspoke: A Unicyclist's Guide to America" by Mark Schimmoeller.
A "utopian English major," Schimmoeller kept a 660-page handwritten journal of his experience, which took place in 1992. He had worked briefly as an intern at The Nation magazine, but he wasn't happy in New York, describing himself as "a forest dweller," who "wanted most to be home and work with the wood, stone, and soil of my place."
Yet, given the longing for his Bluegrass roost, Schimmoeller decided to engage himself in "Slowspoke's" harebrained odyssey, during which his childhood unicycle assumes a tutorial role. "It kept me from being spacey and from being normal," he reveals. "A unicycle is who you are … the pace should be just ahead of sorrow." As for his peripatetic uncertainty, "The reason for traveling on a unicycle shifted with each locale."
Schimmoeller approached the hardships of the road with equanimity. He slept in disused sheds and even an "abandoned green car." On good days, he found sanctuary in cheap motels, church centers and state or national parks. He often lived on peanut butter and "bean spread" from food marts. Some regarded him with pity; others with suspicion. "I'm not comfortable with you here," said one rural hostile, "not with all that's going on on television."
+ 
Author Mark Schimmoeller
Mostly, though, he encountered an easy-going benevolence. Some folks were "back-to-the-land" people like his parents; others, unorthodox, if affable, true believers like the rural Christian zealots who, improbably, motored a rickety pickup over sharp desert crags. In Lukachukai, Arizona, the pilgrim sat down with a Navajo medicine man who could "see things in coals."
Far more than a novelty travelogue, "Slowspoke's" on-the-road episodes alternate in a steady back-and-forth exchange with more present-day accounts of life near Frankfort, Kentucky. Schimmoeller constructs a cabin from found objects and fallen trees. A water well on the property serves as a refrigerator. He sometimes uses a homemade "solar oven" to cook dinner, which requires keeping an eye on the clouds. He cultivates a deep understanding of his property's old growth and floral spread. But the Arcadian moment is disturbed by a low-intensity struggle to save 150 acres of spectacular forest from "Mr. Gregory," a peculiar neighbor who plans to develop the land.
Schimmoeller represents a world-view that has an enduring appeal. With its origins in Thoreau's "Walden," it's an outlook that materialized fully with "The Whole Earth Catalog," the 1968 West Coast publication that was greatly influenced by Wendell Berry, the Kentucky poet and essayist. Berry's enlightened individualism and agrarian critique of industrial capitalism also had a profound impact on the life-choices of young Schimmoeller.
To fully enjoy "Slowspoke," the sympathetic mind is called upon to decelerate into a state of naturalist trance. Its language reveres the flute-like song of the wood where "the paw-paw blossoms" become "hanging purple green helmets." Soft collisions occur with enchanting natural phenomena: the author once stumbles into "a miniature forest" where "canopies clutched at my legs." At any moment in the Western wilderness, a friend tells him, "You expect to see a mammoth come walking out."
Elsewhere, a bit of down-home drollery sneaks up. (Schimmoeller once ducked into an isolated general store run by "a woman so old she looked like the previous owner.") And he has a fine ear for capturing stray quips and odd remarks. He strikes a practical, if metaphysical, note, accumulating a series of helpful apothegms for unicyclists, e.g., "The act of falling partway plus corrections equals movement."
Despite idyllic moments, "Slowspoke" is not without conflict. On his cross-country trip, the "geography of my bliss" occasionally became more complicated by fleeting romantic pursuit. The ongoing suspense over the fate of Mr. Gregory's adjacent parcel isn't resolved until the final pages. Elevating Schimmoeller's sober ramble is an endearing humility free of sadness, which is surprising considering the man's solitary preoccupation, tucked away in the Kentucky woods or out in the national open, trundling along. "I liked it better without people. Things were just the way they were."

| | |
| --- | --- |
| | Click here to Reply, Reply to all, or Forward |
Slowspoke:  A Unicyclist's Guide to America
KIRKUS REVIEW
Schimmoeller's thought-provoking memoir, his debut, cuts between his 1992 unicycle trip from North Carolina to Arizona and his current life as a homesteader in Kentucky.
These rather unorthodox parallel tracks—unicycling thousands of miles and living off the grid with his wife, Jennifer, growing their own food without city services—are set forth in the book's first pages, with a series of flashbacks and reminiscences that outlines just how those circumstances came to be. There's no simple answer for why the author decided to embark upon his unicycle trip; maybe it related to him being a slow, quiet person in a loud, fast world. He left a prestigious but stifling magazine internship in New York, knowing he didn't belong there but not having any sense of what he was meant to do. His skills consisted mostly of knowing how to ride a unicycle, build a solar cooker and write. Perhaps, he thought, he could pedal across the country and author a guidebook, A Unicyclist's Guide to America. Though the guidebook as conceptualized never came to be, the trip happened. With a gentle, meandering style that evokes the twists, turns and backtracking of unicycling, the memoir captures Schimmoeller's perceptive observations of a largely unseen, back-roads America. He also lovingly writes of his home in Kentucky, his otherwise spare prose blossoming into lavish descriptions of the local fauna, which changes with the seasons. To the degree that there's a central conflict in the memoir, it relates to the couple's efforts to protect their acreage—which includes rare, reverently described old-growth forests—from development and thus preserve a corner of the world in which slow-paced, soft-spoken people can thrive. The book will remind readers of other homesteading narratives, such as Barbara Kingsolver's Animal, Vegetable, Miracle (2007). In some ways, it also transcends personal history, like a modern-day Pilgrim's Progress: one man, alone on a road, seeking redemption and ultimately finding it.
Not just for unicyclists, Schimmoeller's memoir is beautifully written and often funny; a real find.
A unicyclist muses across the land while braiding a memoir.
Slowspoke: A Unicyclist's Guide to America by Mark Schimmoeller
Alice Peck Editorial: $19.82 hardback, $13.03 paperback. Forthcoming fromChelsea Green Publishing.
Guest Review by Lanie Tankard
The wheel is come full circle; I am here.

—William Shakespeare, King Lear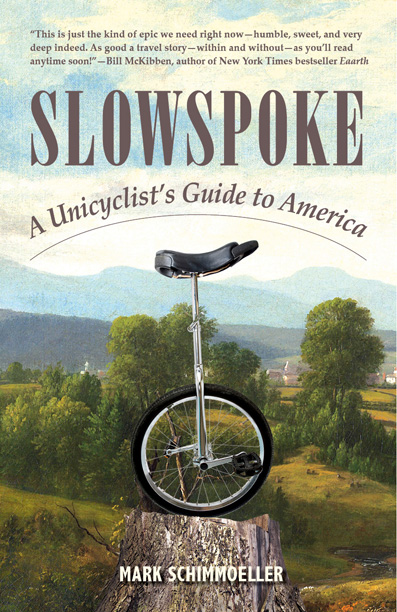 One day Mark Schimmoeller decided to do a little traveling, "attempting to visit people living for something other than what our consumer society deemed was important." Thus was his mission when he set off in 1992 atop one wheel for a cross-country unicycle trip.
Body balance steers this upright one-wheeled vehicle driven by pedals. Unicycles appear to date back to the late 1800s and a bicycle called a "penny farthing." The benefits of riding a unicycle aredocumented, and riding on one wheel has even been pushed to an extreme sport.
The author of Slowspoke meets all types of people living along the byways of America as he buys provisions, dodges cars, and seeks out places to camp for the night. He sketches word portraits of folks who don't trend on Twitter, just as real as the ones who populate reality shows on television.
Schimmoeller muses as he rides, in no hurry to arrive. The reader ponders along with him, about topics such as time: "It had become cool to have no time, to be busy."Ah, I thought, but Socrates long ago warned: "Beware the barrenness of a busy life."
It was just this type of recurring silent mental dialogue I found myself having with a unicyclist that decelerated my progress through Slowspoke. We ramble along in our thoughts, he and I, noticing patchworks of woods and fields, hearing the sound of the wood thrush, and feeling the hot morning sun on our faces.
Schimmoeller becomes so comfortable riding as I read that he begins to tell me about his childhood. His parents were former Peace Corps volunteers who became Kentucky homesteaders raising their children far from the madding crowd. Gradually he rolls out the story of how he courted his wife. He gently chronicles a life off the grid as he and his wife construct their own home in the woods near the one his parents built.
Then, bit by bit, Schimmoeller starts weaving in another thread—his quest to save a large parcel of Kentucky property next to theirs so that it can be rescued from logging and turned into a land trust. Will he succeed?
The book by now has become a braided memoir with three strands: the unicycle journey, the author's family life, and the quest to save land from logging. As he crosses the USA, Schimmoeller delves deeper into himself to work out philosophical aphorisms to live by. While commenting on hidden beauty during his coast-to-coast crossing, he isn't afraid to air out his own personal weaknesses as well.
Schimmoeller is not the only rider to make a long unicycle trek. A few books and blogs record others, such as Bob Mueller's Bob Across America, Cary Gray's CaryOutThere, Dustin and Katie Kelm's Refugee Ride, and Gracie Cole's One Wheel for Life. Schimmoeller's writing, however, is glorious.
Slowspoke did seem to drag in a few places toward the end, although one could certainly view it as an intentional rhetorical device to symbolize running out of steam on a long expedition. The story braids worked in most places but on occasion were timewise confusions, as they didn't alternate in regular intervals. Several small repetitions of information occurred.
All in all, though, Slowspoke is a tale very well told. Schimmoeller manages to convey enthusiasm for the common bonds he unearths with those he encounters on his quest across the land while at the same time share insights into his own psyche sparked by these interactions. He does so in a calm straightforward manner, a method that is effective because it is not didactic. His prose meanders in a way that matches the pace and wanderings of his unicycle. That thought process forces the reader also to slow down and enjoy the ride.
The book reminded me in certain ways of The Road to Somewhere: An American Memoir by James A. Reeves and Blue Highways by William Least-Heat Moon, but Mark Schimmoeller's Slowspoke is distinctly different in both the mode of transportation and trifocal nature of the braided storylines.
"Time is the longest distance between two places," Tennessee Williams wrote in The Glass Menagerie. Do we have time to read an unhurried book likeSlowspoke? Such softspoken slow-paced volumes are easily overlooked, but they contain large-scale wisdom.
Lanie Tankard is a freelance writer and editor in Austin, Texas. A member of the National Book Critics Circle and former production editor ofContemporary Psychology: A Journal of Reviews, she has also been an editorial writer for the Florida Times-Union in Jacksonville.